Synthetic Café Ghana is a bi-monthly public engagement event to educate the general public, scientists and researchers alike on contemporary science advances in biotechnology and also bring the public up to speed with researches ongoing in Ghanaian labs.
Education and science communication have become very important in getting the public and research communities to fully understand science and how it can be translated into practical daily activities.
In the light of this, the first Synthetic café in Kumasi dubbed "Engineering Cells as Micro factories and Synthetic Biology" was attended by 32 participants to listen to seasoned scientists from University of Cambridge and Kwame Nkrumah University of Science and Technology (K.N.U.S.T).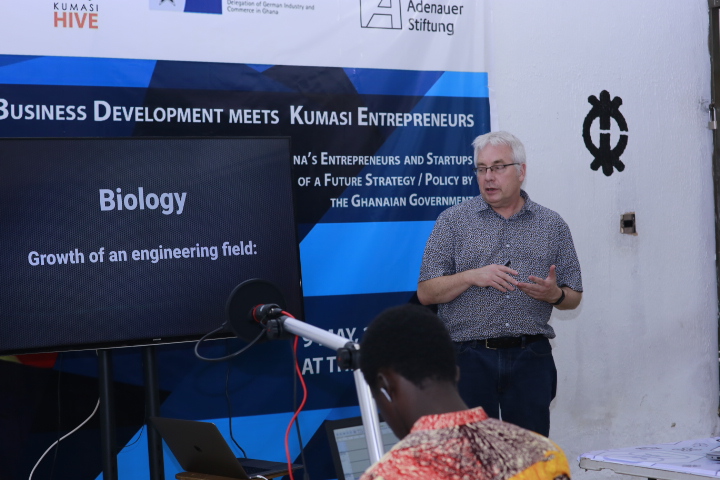 He therefore, defined synthetic biology as the use of standardized genetic parts in creating complex biological systems.
In his submission, Prof., Haseloff mentioned that the field of synthetic biology is very new globally and major developments are still in the research and development (R&D) phase. However, it holds the potentials in engineering biology at the cellular level in creating new materials including high energy compounds, drugs and enzymes. The difficulty of doing synthetic biology is largely linked with obtaining standardized biological parts. Prof. Haseloff shared global efforts like the Open Material Transfer Agreement (Open MTA), a legal document developed by biologists, researchers, lawyers, technology transfer officers and academic institutions to enable the sharing of biological parts between researchers and labs without legal restrictions. He mentioned this as one of the numerous efforts to make the field of synthetic biology easily practiced. He also shared his research on machantia and how he and other group of researchers in the University of Cambridge are studying this traditional plant as a system in developing new materials.
Dr. Samuel Asamoah-Sakyi, senior lecturer from Kwame Nkrumah of Science and Technology (KNUST), Department of Molecular Medicine, shared current researches that are ongoing within KNUST and the role researchers are playing in knowledge creation and development within the scientific community in Ghana. He also highlighted a number of student innovations and researches that were developed within KNUST.
Dr. Chiara Gandini, a researcher with the Open Bioeconomy Lab spoke about her research in creating capacity and developing protocols for low-cost and local biomanufacturing of enzymes for molecular biology applications using Escherichia coli. She shared a story on how big pharma companies produce insulin using pig pancreas to emphasize the importance of how costly that approach is and how it has affected the cost of of insulin for therapeutics. She spoke about how using E. coli as a micro factory for enzyme production can greatly help reduce the cost of manufacturing and selling of enzymes.
The synthetic café ended with very intriguing question and answer session. The overall goal of engaging the public to increase their understanding of recent development in biology, notably synthetic biology and current researches conducted in the scientific community in Kumasi was achieved.