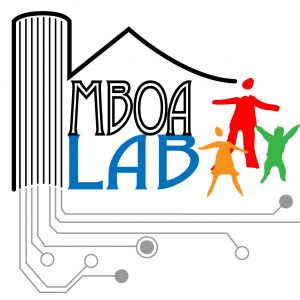 Preamble
MboaLab is an open and collaborative space located in the village of Mefou-Assi, Yaoundé, Cameroon. The word "Mboa" has different meanings in native Cameroonian languages: in Matakam, it means "new"; in Ewondo, it means "unique"; in Duala, it means "village". Literally translated, MboaLab is a unifying village dedicated to creation; even better, it is a laboratory for social innovation, community education, collaboration and mediation at the service of the community.
Aim and missions
The aim of MboaLab is to catalyse sustainable local development and improve people's living conditions through open science. To this end, the main missions of Mboalab are as follows: 
provide community and lifelong education for the population, as well as formal education for the younger generations;
serve as a platform for exchanges on issues related to local context;
mediate between local communities and academia;
propose solutions that meet the needs of communities, using local knowledge and open digital technologies;
raise public awareness of environmental issues;
facilitate access to basic health care.
Our vision of sustainable local development
We advocate for the character of a local development, which is conferred by the imperative to have it emerge from the communities themselves; this is what ensures its relevance and sustainability. In other words, sustainable local development needs to be thought by and for the members of a given community. To do so, it is important to break the unenthusiastic spirit that exists among many Cameroonians, by training healthy, educated citizens capable of critical thinking on issues related to their immediate environment. By choosing education and health as priority axes, associated with its role as a mediator between Science-Technologies-Societies; we can say clearly that Mboalab could be a powerful catalyst for local sustainable development.           
Mboalab Biotech and its role in the achievement of our mission. 
Mboalab Biotech is a DiY Open bioeconomy research unit hosted in MboaLab space. Established in 2018, the lab currently runs a number of projects amongst which the open enzyme manufacturing project. At its core, our work in Mboalab Biotech is focused on making biotechnology research and tools more accessible to labs around the world through scientific research and development and local production of reagents. We are committed to the development of open educational resources as well as simple and cost-effective protocols that can be applied in resource-limited laboratories. We also provide scientific research projects targeting local health issues, internships opportunities, and training sessions to young local scientists in order to equip them with molecular biology and DIY- Biology skills, and prepare them for employment.
Préambule
Le MboaLab est un espace ouvert et collaboratif situé dans le village de Mefou-Assi, à Yaoundé au Cameroun. En fonction des langues locales, le mot Mboa revêt différentes acceptions ; il peut signifier : nouveau (en Matakam), unique (en Éwondo) et village (en Douala). Traduction littérale faite, le MboaLab est un village unificateur voué à la création ; mieux encore, c'est un laboratoire d'innovation sociale, d'éducation communautaire, de collaboration et de médiation au service de la communauté du village Mefou-Assi.
But et missions
Le but du MboaLab est de catalyser le développement local durable et d'améliorer les conditions de vie des populations à travers la science ouverte. Pour ce faire, les principales missions du Mboalab sont les suivantes : 
assurer l'éducation communautaire et continue des populations, ainsi que l'éducation formelle des jeunes générations ;
servir de lieu de rencontre d'échanges au sujet des problèmes liés à l'environnement immédiat des communautés locales ;
faire la médiation entre les communautés locales et les milieux académiques ;
proposer des solutions qui répondent aux besoins des communautés, en utilisant les savoirs locaux et les technologies numériques ouvertes ;
sensibiliser les populations aux enjeux environnementaux ;
faciliter l'accès aux soins de santé de base.
Notre vision du développement local durable
Nous insistons sur le caractère local du développement, qui est conféré par l'impératif de le faire émerger des communautés elles-mêmes ; c'est ce qui lui assure sa pertinence et sa durabilité. Autrement dit, le développement local durable nécessite qu'il soit pensé par et pour les membres d'une communauté donnée. Pour ce faire il est important de briser cet esprit d'attentisme qui existe chez de nombreux Camerounais, en formant des citoyens en bonne santé, instruits et capables de mener une réflexion critique sur les problèmes liés à leur milieu immédiat. En choisissant l'éducation et la santé comme axes prioritaires, associés à son rôle de médiateur Sciences-Technologies-Sociétés ; nous pouvons dire sans ambages que le Mboalab pourrait être un puissant levier de développement durable local.
Mboalab Biotech et son rôle dans la réalisation de notre mission.
Mboalab Biotech est une unité de recherche en Open Bioéconomie. Hébergée au MboaLab, le laboratoire a été créé en 2018 et gère actuellement un certain nombre de projets dont le projet de production locale d'enzymes. Au Mboalab Biotech, notre travail est centré sur l'amélioration de l'accès à la biotechnologie et aux outils de laboratoire ; à travers la recherche, le développement scientifique et la production locale de réactifs.
Par ailleurs, nous sommes engagés dans le développement des ressources éducatives libres ; ainsi que des protocoles simples et peu couteux, qui peuvent être appliqués dans des laboratoires aux ressources limitées. Nous proposons également des projets de recherche scientifique ciblant les problèmes de santé locaux. Finalement, nous offrons des possibilités de stages et des sessions de formation aux jeunes scientifiques locaux, afin de les doter de compétences en biologie moléculaire et de les préparer à l'emploi.