We are delighted that our Open Enzyme Collection is featured in the Wilson Centre's Science Stack: Tools Within Reach infographic for low-cost and open source tools.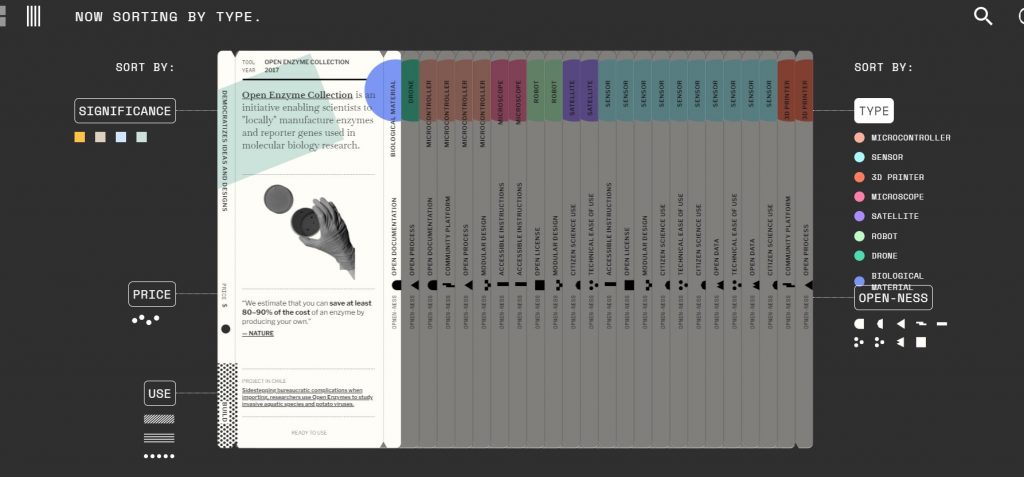 More on the project from the Wilson Centre's THING Tank:
Low-cost and open source tools—the physical tools used to generate data and make new discoveries—are transforming the way science is done. In recognition of National Week of Making, and the ongoing work of communities designing, making, and using low-cost and open source tools, we are excited to announce the launch of a new infographic produced by the Wilson Center's THING Tank: "Science Stack: Tools Within Reach."This infographic contains a "deck of cards," with each card sharing detailed information on a particular science tool, ranging from microcontrollers like Arduino, to sensors like Purple Air, and 3D printers like RepRap. These tools don't emerge in a vacuum, but are embedded within and used by a wide range of communities. One goal of this infographic is to demonstrate the diversity of tools, which may be by research topic, cost, or level of openness. Another goal is highlighting how these tools are changing science and benefitting society, such as the use of Spikerbox to democratize neuroscience research.
We developed a visual key included on each card to illustrate the details of each tool. For example, for each tool, we highlighted one type of openness, such as open documentation, building off typology from external research as well as one of our own. These features enable a broader impact, which we highlight as "significance" through concepts like encourages new uses ("the tool has features that make it easy to modify the tool's design; this might be a 'building block' tool that leads to a wide range of innovations") or democratizes tools and designs ("the documentation of the tool is accessible, complete, and appropriately licensed, so that anyone can build or study the tool").
Even when working with a simple and engaging interface, we hope that pointing to some of this complexity can spark broader conversations around ideas that are emerging from the broader field, like the impact of building block tools or the value of licensing.In the next few months, we'll invest our time in understanding more about the converging communities of low-cost and open source tools, including through profiles of different communities that contribute to the open science ecosystem more broadly, and an analysis of how communities fit within different paradigms. We hope our research can continue to elevate, build off, and learn from the contributions of others, and encourage you to get in touch if you would like to become involved.